Never believe your own propaganda. The opponent may not
be what you imagine her to be.
Never blame on malevolence what can be adequately explained by "the arrogance of complacent incompetence." One of the problems with having the media in the tank for you is that you never get the hardball questions and you come to accept the rosy picture of adulation and worshipful inevitability they present. Brandon Watson at the philosophy blog,
Siris
, tells us:
Both the winners and the losers in the recent presidential election have been talking as if there had been some enormous swing in the country; but the electorate was, by and large, the same electorate that had elected Barack Obama in two previous elections. They were not suddenly spirited away by the Flying Saucers and replaced by pod people.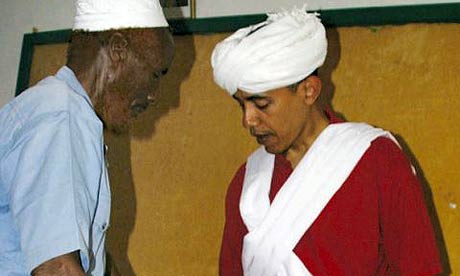 Photograph circulated by Hilary Clinton staffers in early 2008.
Generally speaking, half the electorate prefers blueberries and half, strawberries; that is, half blue, half red, and has done so for a long time. In various elections, more of one faction turn out at the polls or more of the other; but it's been a coin toss for several election cycles now. No one is entitled to crow, "I won, you lost; deal with it," as B. Obama was said to have said.
Never believe your own propaganda. The opponent may not
be what you imagine him to be.
In the most recent election,
107,000 people in three states decided the election
. Trump won the popular votes in Michigan, Wisconsin, and Pennsylvania by that combined amount, securing a collective 46 electoral votes. Had Clinton shifted this relative handful of voters, she would have sealed the presidency with 274 total electoral votes.
The Glass Ceiling
Everyone was expecting an historic breakthrough in elective the Nation's First Woman President. Because of this, many folks were looking past the election itself to the big party afterward. This is always a mistake. When you are driving down a highway, it is best to keep your eye on the road ahead and not think of all the fun you'll have when you get home.
But in the general caterwauling that ensued afterwards
or celebration
what was overlooked was that the glass ceiling had indeed been shattered.
Never again will a serious woman candidate for president be overlooked or marginalized solely on the basis of her sex.
Mrs. Clinton accomplished that, even if she did not win, and we ought to tip our hat to her for that.
The Electoral College
Naturally, in any election this close, the loser always calls for elimination of the Electoral College. It is, we are assured, an anachronism. But some years back, when it appeared as if George W. Bush would win the popular vote total but Al Gore would secure an electoral majority, Mr. Gore took to the waves to declare that the rules were set and we had to abide by them. In the end, so razor-thin was the election that it turned out that Gore had more popular votes and Bush more electoral votes. But Mr. Gore stuck to his principles and graciously conceded.
Ho, ho! TOF jests. Gore did a 180 so fast he could dispense with chiropractors for the next 25 years. Instead, he contested the election, fantasized about "butterfly" ballots, and brought suit demanding selective recounts in those FL counties where Democratic votes might yet be discovered behind potted plants or under the bed. Alas, with each recount, Bush's margin in the Sunshine State grew.
Abolishing the Electoral College is effectively a desire to be ruled by California.
In the popular vote, Mrs. Clinton received
a nationwide margin
of 1,341,642 votes, but in California, her margin was 3,168,486 votes. This means that in the rest of the country outside California, Trump had a majority of 1,826,844 popular votes. Similar, though not identical figures are
here
.
2016 Election map, adjusted for electoral vote
The increasing use of vote-by-mail, early voting, late voting, absentee voting, and so on, means a lot more paper ballots and so a lot less automatic tabulation.
As of November 11, according to the state's updated "Estimated Unprocessed Ballots" report, more than one million ballots were as yet uncounted in Los Angeles County. Two days later, San Diego County reported that it has more than 600,000 ballots to count.
The opportunities to discover previously unknown buckets of ballots are obvious. And a national popular vote would increase the incentives to do so. Presently, once a state is won, there is no benefit to be had from discovering new ballots under your hat or in the trunk of your car.
So the Electoral College is a way to force candidates to pay at least some attention to wider regions of the country rather than to concentrate only on areas of high population density.
Besides, how can you add up all the popular votes? Each state has its own rules for collecting and counting votes. Take felons. In Maine and Vermont, felons never lose their right to vote, even while incarcerated. In Florida, Iowa and Virginia, felons and ex-felons permanently lose their right to vote. Virginia and Florida have supplementary programs which facilitate gubernatorial pardons. In other states, ex-felons automatically gain the right to vote upon completion of their sentence, or they must wait for a certain period of time after the completion of their sentence before rights can be restored, and in some states, an ex-felon must apply to have voting rights restored. There are also differences based on 1st time vs. repeat offenders, nature of offense, etc. In Maryland, voting rights are restored automatically at completion of sentence, unless the conviction was for buying or selling votes, in which case voting rights can only be restored through executive pardon.
So the popular votes in these states cannot be added into a "national total" because they are not based on the same definition of "eligible voter." There are a number of other items like residency requirements, citizenship, and so on, some of which may vary also from state to state or may not be verified in some states.
In addition to defining an "eligible voter," there are also operational definitions regarding a "valid ballot." Does anyone remember the hanging chads? Counting paper ballots differs from machine tabulations, from computerized balloting, from punch-card readers, and so on. Each method has its own characteristic error rates, or "capability" and makes it
problematical to compare or add the returns from different states
.
"You don't like a particular policy or a particular president? Then argue for your position. Go out there and win an election. Push to change it. But don't break it. Don't break what our predecessors spent over two centuries building. That's not being faithful to what this country's about."


-- Barack H. Obama