We have previously glanced at the worlds of 1920 and 1870. Leaping now a further fifty years back, takes us to 1820 and the alien world of Jane Austen. Virtually nothing of the modern exists. People travel by stage coach, not railroad. Canal barges and bleeding are the latest in high tech. For longer distances, there are frigates and schooners. (Between now and 1870, railroads, steamships, and the electromagnetic telegraph will transform life, not least by allowing information to travel faster than a courier on horseback.) A new kind of blast furnace is about to revolutionize iron-making, hence making rails and bridges, and kick-starting an "industrial revolution." But the British Admiralty has rejected a new-fangled electrostatic telegraph on the grounds that flashing mirrors and relay towers (solar-powered telegraphy, or heliography) is perfectly adequate. At least when the sun shines. We might call the 1820-1870 era the fuse that lit the explosion of 1870-1920. For now, the world is solar and wind powered.
In Europe, the hoo-hah is settling down now that Napoleon lives in exile on St. Helena. (Waterloo was five years ago.) Everywhere, but especially in France, royalty is restored, save that in 1820 little revolutions are popping up around the edges of the continent. Louis XVIII Bourbon is king of France, but will shortly die and be replaced by his brother, Charles X. Lou and Chuck are both younger brothers to the guillotined Louis XVI, and as the proverb says, "the Bourbons have forgotten nothing, and learned nothing," The events portrayed in Hugo's Les Miserables [i.e., "The Deplorables"] are playing out in Paris and will soon culminate in another revolution. Charles Dickens is eight years old.

The Great Powers manage Europe through a series of ad hoc Congresses. [Think 'multi-national summits.'] In 1820, the crises du jour are the Spanish and Greek Revolutions. In a few years, Lord Byron will leave his mistress and run off to Greece, where he will use his enormous wealth to attempt to unite the quarreling Greek revolutionary factions, take a teen-aged boy as his lover, and die of 19th century medical practice. (Sepsis caused by his being bled by his doctors.) Cutting edge medicine in those days actually involved cutting edges. But no one has yet heard of sterilization.
Crazy George III Hanover dies this year and his son, the dissolute Regent, becomes George IV. The royal family now speaks English, but is still markedly German. The new George is still King of Hannover.

Jane Austen has died a few years ago and her last two novels were published posthumously. No one knows she is Jane Austen yet, because all her novels were published anonymously and her authorship will not be revealed for another decade. The Barber of Seville has debuted and Stille Nacht was just written.

At this point, all but two of the Flynncestors are in Europe (Ireland, France, Baden); and all of the Margecestors are in America. Because ancestors double with each generation, some editing is required at this point, and only the main lines will be mentioned. For the Flynncestors, these will be Flynn of Loughrea, Lynch of Ballinavaloona, and McGovern of Tonlegee; Cantrel of Auxi-le-chateau; and a barge-load of Singleys, Schwars, et al. of Niederhausen/Oberhausen in Baden.
A. Ireland



Ireland has been unified with Great Britain since 1800 when the Irish parliament was absorbed into the British one. Ireland is divided into Counties, and Counties into Baronies. The neatness is spoiled by a few baronies lapping into more than one County. Baronies in turn are divided into Parishes and -- unique to Ireland -- these are divided into Townlands of varying sizes. Not all of these units are contiguous.
Information close in time to 1820 include:
The Tithe Applotment Books list proprieters and occupiers of rural townlands assessed taxes to support the Established Church. They were compiled at different times is different parishes.
The Ordnance Survey Maps. Made about the same time as the Tithe Books.
Lewis' Topographical Dictionary of Ireland from 1837 describes the various counties, baronies and parishes as of that time.
Catholic Church record books begin in the mid-to-late 1820s with the Catholic Emancipation Act.

1. Martin Flynn of Loughrea (Baile Locha Riach, meaning "town of the grey/speckled lake") is only fourteen years old in 1820, but we don't know the names of his parents. His tombstone states he was born in Loughrea, County Galway, Ireland, and from his given age at death we can compute his birth year at around 1806; but Catholic birth records will not begin for Loughrea until 1827.
This is Ireland before the Famine, and Loughrea is a prosperous market- and post town on the north shore of its eponymous lake. It is also a garrison town, and barracks both constables and revenue police.
Martin may barely be twenty-one when Loughrea parish is applotted in 1827. But since the assessments did not cover towns anyway, he is not listed as an occupier. .
Directly across the lake from the town lies the parish of Killeenadeema (Cillin na' Díoma = "Little Church of St. Dyma"), where correspondents once told TOF that the Flynns originally lived. The Tithe Applotment Book of 1825 for Killeenadeema lists two Flynns:
Michael Flynn of Glanaclara, 36 acres

John Flynn of Derrybrien, 64 acres
Each shares the acreage with numerous others.

One of them may be Martin's father. John is a 'possible,' given that Martin will name one of his sons 'John,' but none of them 'Michael.' However, it is more likely his family actually lived in Loughrea itself and so is not listed at all.As for occupation, later Flynns in Loughrea will be grocers, publicans, drapers, wool-card makers [for Jacquard looms], and school teachers. We don't know what Martin was, and he will die the year his sons brought him to Americas.

2. John Lynch of Ballinvalloona, (Baile an Bhallúnaigh = "Baldwin's Town") in the Parish of Stradbally, (An tSráidbhaile = the (one) street town) in the barony of Decies-without-Drum, Co Waterford. John is married to Joan(ne) Whitty, and their son Daniel is one year old. The Tithe Applotment Book for Waterford in 1834 will list only three Lynches in all of Stradbally, and all of them in Ballinvalloona:viz., Patrick, Thomas, and Daniel, but not John. Our Daniel will be only 15 years old by then. He will name none of his own children 'Patrick' or 'Thomas.' The Daniel from the Applotment book is tenanting 40 acres on the estate of the redoubtable Lady Catherine Osborne, who runs the estate in lieu of her ill husband. She complains that Irish land names are impossible to pronounce and the tenants try to cheat on their rents when they pay in kind (cattle, pigs, sheep...). She wants to switch to money rents, but both her old-fashioned husband and the tenants themselves resist the change. Stradbally is on the southern coast, and is a popular destination "during the bathing season." Think of a low-budget Sanditon for comparison.

One of those little squares is John Lynch's farm
3. Edward and Bridget Barry of Kilminnin Lower (Cill Mhinín Íochtarach) in Stradbally south of Ballinavaloona. He occupies 94 acres for George Beresford. Their daughter Bridget is four years old.
In 27 years, young Daniel Lynch (28) and his pregnant wife, Bridget Barry (31), will flee from the Famine to America by way of Canada and Vermont.

About 200 miles north of Stradbally and 90 miles northeast of Loughrea lies Templeport Parish, Co Cavan. Co. Cavan is shaped like a drumstick, with the meaty end pointing southeast and the bone sticking up northwest. This mountainous "bone," pinched between Co. Fermanagh and Co. Leitrim, comprises the Parish of Templeport. Lewis' Topographic Dictionary of Ireland describes it as a remote region, growing only oats and potatoes -- no green crops. The farmers lack plows. Agriculture here is carried out with spades, sickles, and flails. The tip end of Parish Templeport is called 'The Kingdom of Glan," a valley where live "a primitive race of McGoverns and Dolans" who intermarry and elect a "king of the Glan" from among the McGoverns. One enters and leaves the Glan through the difficult Gap of Beal, and this impediment to bringing their crops to market results in the inhabitants turning to "illicit application of their surplus corn." So, we gotta figure that unlike the prosperous market town of Loughrea or the well-tended estates of Lady Osborne, this is a land of hillbilly moonshiners. Some flavor of the milieu can be found in this account of Bryan Dolan and Sqint-eyed Terry McGovern. Keep in mind that "McGovern" has been spelled McGauran, McGaughran, etc.

It's of interest that TOF's great grandmother, Mary McGovern (b.1854) was the daughter of Matthew McGovern and Catherine Dolan, and Tonlegee, their likely home, lies just south of the Glan.
4. Matthew McGovern of Tonlegee, who will become the father of Mary McGovern, will be born around 1825. The Tithe Applotment Book for Co. Cavan, which are from 1826, will list a Mathew Magauran of Tonlagee, Templeport, Tullyhaw occupying 7 acres. (Everyone in Tonlegee is a Magauran.) The later Griffith's Valuation will list a Matthew M'Govern, sen. (17 acres) and a Matthew M'Govern, jun. (21 acres), both in Tonlegee. Thus, Matthew's father would seem to have been also Matthew. Junior will have married Catherine Dolan. There are a plethora of Dolans in the Parish and one, Patrick Dolan, holds 15 acres in Tonlegee. This might be Catherine's father. Everyone appears to be a farmer (and moonshiner?)
B. France
5. Francois Theodore Cantrel and Phillipine Euphroisine Neuville are living in Quoeux, Auxi-le-chateau, Pas de Calais, France. Their son, Louis Philippe Cantrel, will be born in 13 years, It has been only five years since Napoleon met his Waterloo, 125 miles to the east. It had also been nearby that the future "Citizen King," Louis Philippe, led led the revolutionary army in an invasion of the Austrian Netherlands (today Belgium). Whether Francois served in Revolutionary or Imperial armies, we do not know, only that he will apparently named his son after the king.
The County of Artois, wherein lies Azincourt, was abolished a few years ago by the Revolution, which implemented the modern Department System, but at this point in 1820, the people of the region -- especially the old-timers -- likely still thought of themselves as Artois (or, nearby, Picards and Flemings. Auxi-le-chateau lies southeast of the line connecting Crecy and Azincourt, about equidistant between them.

C.Westpfalz

6. Johann Conrad Hungrege of Istrup/Höxterminden is born this year either to Conrad and Elizabeth Hungrige or to Anton Hungrige and Agnes Kröger. (Two records are in conflict.) With the settling of borders after Napoleon, this region, formerly Austrian, has been given to Prussia, combining the provonces of North Rhine and Westphalia. Istrup is on the Westphalia side of the river. We don't know anything of the station of Conrad's parents, although Conrad in later years will be a riverboat captain. The ancient Romans lost three legions in the Teutoberger Wald near here. Oddly, it is not all that far from where the Cantrels live (362 miles)

D. Baden
Baden lies along the upper Rhine and is the source of both that river and the east-flowing Danube. Away from the Rhine banks is a mountainous region called the Black Forest east of Freiburg-im-Breisgau and running north in lower hills toward Baden-Baden. Farther east is the valley of the Neckar (running north to Heidelberg) and the Swabian Alps, with the Danube running on the farther side. Historically, it included the west bank as well (Elsass/Alsace and Lothringen/Lorraine) until Louis XIV seized and devastated the region. (In present southwestern Germany, his general Mélac's name has become a synonym for "murderer and arsonist" well as a common dog's name.)
Following the French Revolution, a recently re-united Baden joined forces against France but was invaded and devastated once again. Baden was forced to give up Elsaß on the left bank of the Rhine. In 1805 Baden flipped and fought on the side of France. In 1806 Napoleon made Baden a Grand Duchy joined to the Confederation of the Rhine, a Napoleonic puppet-state, resulting in French control over a large swathe of German territory with over 15 million subjects. The German states provided military support for Napoleon's war machine, including numerous troops.
Nine years ago, Karl Ludwig Friedrich became grand duke of Baden (11 June 1811). Then, seven years ago, Napoleon lost the Battle of Leipzig, big time, and the German states, incl. Baden, defected. At the Congress of Vienna, Baden was joined to the newly-formed German Confederation, to provide a buffer state against futureFrench expansion [cf. the Watch on the Rhine]. You wouldn't like to living in a buffer state.

Karl-Ludwig starts the "administration of the Rhine," overseen by Johann Tulla, which is a series of dams, diversions, and other engineering works that transform the upper Rhine for navigation and fisheries.
Two years ago, the Grand Duke died and was succeeded by his uncle Ludwig I. This year, Ludwig secures the continued existence of the University of Freiburg, which is renamed the Albert-Ludwig University. He will also found the Polytechnic Hochschule, the oldest technical school in Germany in Karlsruhe in 1825.
So, at this point, Baden has had a taste of French republicanism, fought for Napoleon, fought against Napoleon, and now watches warily on the Rhine. Three years ago, Karl Drais, premiered his velocipede in Mannheim, which will lead to the bicycle, once pedals and chains are added. Next year, Karl will introduce the first keyboard typewriter and then a stenographic typewriter of the sort now used in courtrooms. A few years previously, he had invented a device to record piano music (eventually, we get player pianos), the first meat grinder, and what will become the railroad handcar. He is the Thomas Edison of pre-electric tech and the Flynncestors in Baden would have been impacted by his marvels.
But when Leopold I of Baden becomes Grand Duke in 1830, despite his own liberal reforms, he will set the stage for the Revolution of 1848.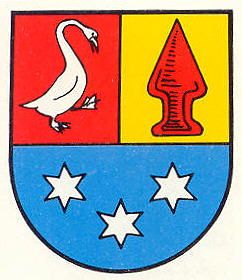 Niederhausen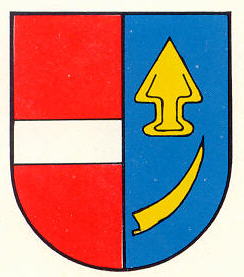 Oberhausen
7. - 12. Oberhausen and Niederhausen in what was then the Grandherzogthum Baden were two villages that have nowadays been consolidated into the town of Rheinhausen in the German state of Baden-Wurttemburg. In these two villages live an entire tribe of Flynncestors! Until 1803, the area was ruled part of Farther Austria (hence, the red-and-white in their arms), before Napoleon rearranged the map of Europe.

7. Lorenz Zängle (62) is living in Oberhausen ["Upper Houses," i.e., upstream] with his wife Petronella Lurm (54) of Herbholzheim. Their son, Anton Zängle (21) is not yet married.

8. Swbastian Schwär, Sr, (45) is living in Niederhausen ["Lower Houses," i.e., downstream] with his wife Theresia Deck (40) Their daughter Katherina Schwär is aged 6. Their son Sebastian Schwär. jr, will be born next year and will emigrate to the USA. The Schwars are stone masons.

0. Christian Philipp (19) of Niederhausn may or may not be married yet to Anna Maria Montigny (20) of Paris. Their daughter Theresia Philipp to be born in three years. Christian and Anna Maria will later emigrate to the USA

10. Franz Xaver Metzger (14) of Niederhausen is the son of Andreas Metzger and Michaelina Schwär.

11. Joseph Groesch [Kresch] (4) is living in Niederhausen with his parents Anton Groesch (40) and Katharina Zeiser (34). When he grows up he will marry Katherina Schwar, above.
12. Johann Rieß (24) and Franciska Steffan (21) of Niederhauseb might be married already, but their daughter Magdalena Riess will not be born for another 16 years.

13. Johann Ockenfuss (25) and Maria Schmitt (19) are living somewhere else in Baden, but we don't know where. In twelve years, they will emigrate with two young sons to the US aboard the ship Meridien, out of LeHavre for New York City. The passenger list will record him as a farmer. He is the earliest Flynncestor known to have emigrated to the US. The immigration station at Castle Garden [a/k/a the Battery] has just opened this year.
Meanwhile, in the USA of 1820, Monroe presides over the Era of Good Feelings and is about to pronounce the Monroe Doctrine. The War [of 1812] is over and the British attempt to reverse the verdict of the Revolution failed at New Orleans five years ago, making Andrew Jackson a fat big hero. Alabama was just admitted to the Union this past December and the District of Maine was broken off from Massachusetts early in the year to make up for it and maintain the balance between slave and free soil states. The US is bounded on the north by British North America, on the Southwest by New Spain, and on the northwest by the Oregon Country, jointly run by the US and Britain/Hudson's Bay Co.. The northern third of Maine is also claimed by Britain, but the "ripple" in Minnesota caused by the Red River of the North has been straightened out by Britain ceding everything south and the US ceding everything north of the 49th Parallel.

The Federalist Party has self-destructed over the War of 1812, though there are still Federalists in the Congress. But because there is effectively only one party, discipline within the Jeffersonian Democratic Republicans is splintering. In 1820, Missouri is petitioning for admission as a slave state. A coalition of Northern "restrictionists" and [anti-slavery] Federalists want to make her admission contingent on restrictions on the spread of slavery. This year, the rancorous Missouri Compromise kicks the can down the road.

In the election of 1820, there was debate over whether the votes of impending State of Missouri could be counted, but it was rendered moot because the Federalists do not even field a presidential candidate this year (they nominated four vice-presidential candidates, instead!) and Monroe won all electoral votes but one. In four years, the one-party state will crumble as the one party itself splits inevitably into factions not only over slavery but also for an against Andrew Jackson, presaging the birth of the Democrat and Whig parties. The DRs will field four candidates in the next election, and the election will be thrown into the House for resolution for the only time (so far).

Sam Houston will shortly be elected to Congress from Tennessee and a few years later will be governor of that state. In twelve years, he will head to Texas. Next year, 1821, Davy Crockett will be elected to the Tennessee General Assembly and a few years later to the US Congress. Like Houston, he will head for Texas.

The Erie Canal, second longest in the world, will not be be finished for another five years. The Cumberland Road, the USA's first Interstate Highway, was started nine years ago, and proceeds in fits and starts as it facilitates Conestoga wagons crossing the Appalachians.
America this year sees the appearance of The Legend of Sleepy Hollow. Six years ago, Merriwether Lewis published his account of his famous expedition. James Fennimore Cooper has written The Spy and in 1826 will put out Last of the Mohicans. In 1827, George Tucker will write the first American sci-fi novel, A Voyage to the Moon. John Neal champions a more American, more natural diction in writing rather than the formal style then in vogue. He will soon become famous when in his historical novel Seventy-six he becomes the first to write "son of a bitch" in a work of literature.
E. North Carolina



Ransom White (17) lives in Wake Co., NC. In three years, he will marry Patsy Stanly (now 14) and a few years after that go off to the Piedmont and thence to Texas (after the War). (There is some evidence that this is Patsy's second marriage and that, as Patsy Allen, she was first wed to Nash Stanly.) About the Whites, little more can be said, as White is too common a surname in the area, and neither the 1820 nor the 1810 Censuses for Wake have survived. But we do know that Ransom was a farmer in later years.
Somewhere also in North Carolina in a couple of years will be born Henry Helms, to unknown parents. He will later move to Chambers, Alabama, then to Lee, Georgia.

F. Kentucky



Reuben Marlow

Reuben Marlow (12) is probably living in KY with his [unknown] parents. c.1832 Reuben will marry

Peggy

Patterson in Alabama

. Marlow family legend says she was sold to Ruben Marlow for a mule. In 1835, Reuben will secure land in Jackson Co Alabama and then sell it to neighbor Jane Patterson.
Greenberry Harris is born this year in (apparently) Hardin Co. The 1820 Census does not list children by name and there are eleven Harris families in Little York alone. Which is the father of the imminent Greenberry is a puzzle. Some say John H., some say William. Believe it or not, there is more than one Greenberry Harris in later Censuses. Neighbors include 42-year old Thomas Lincoln and his 11-year old son, Abraham. So, way-of-life-wise, picture Abe Lincoln's childhood. Log Cabins, back woods, and all that. Greenberry et al. will move with the Lincolns to Spencer Co., Indiana. After that, the Lincolns will move to Illinois and the Harrises, to Missouri.
G. Tennessee
James Hammontree (42) with his wife Nancy Holloway (40) and seven kids (so far) is living along Baker's Creek in Blount Co., about fifteen miles southwest of Maryville. James had been born in western North Carolina before his parents and a passel of others had gone "over the mountain" into East Tennessee to live on the frontier. A few years ago, he had gone off to war with Joseph Duncan's company of Samuel Bunch's regiment of East Tennessee Volunteers and had been with Andrew Jackson and Pushmataha at Horseshoe Bend. Now, he's back to farming.
H. Mississippi
George K Holland (43) originally of Goochland, Virginia, will be married in 1824 to Martha M. Maxey (21) of Hinds, Mississippi in Claiborne Co., Mississippi. He is a farmer, but had served in the Virginia State Militia in the War of 1812. (There were three George K. Hollands in the Virginia Militia.) Nearby inClaiborne Co., are Martha's parents, Nathaniel Maxey and Sally Worsham, both also originally from Virginia. He grows cotton and has three slaves.

I. Alabama



Pushmataha
Peggy Patterson

(13) is living in the brand-new State of Alabama, where she was born the daughter (so it is said) of

Moontubbee

a/k/a

John Paterson

. Moontubbee will be listed on the Armstrong Rolls as full-blooded Choctaw
and named his oldest son James Patterson. But Patterson is also a common name at this time, so little more can be said. One source claims Moontubbee is the brother of the mingo Mushulatubbee, but this is not sourced.

This is before the Removal. The Choctaw still live in Mississippi and Alabama, tending their farms, raising cattle, and behaving in general like their European neighbors. In the recent war of 1812-15, the Choctaw had fought on the American side at Horseshoe Bend and New Orleans, and Pushmataha was made a brigadier general. Elected after the war as the first paramount chief of the entire Choctaw nation, he advocated learning new technologies and useful practices from the Americans and devoted much of his military pension to funding a Choctaw school system.

By 1826, the Choctaw will produce a formal system of education, a police force, and a written constitution. The Choctaw are organized into three districts: Okla Falaya (Long People), Okla Tannap (People of the Opposite Side) and Okla Hannali (Sixtown People). The district chiefs (mingos) in 1820 are, resp. Apuckshunubbee, Mushulatubbee, and Pushmataha..
This year, in the Treaty of Doak's Stand (signed October 18, 1820) the Choctaws relinquish about five million acres in Mississippi in return for thirteen million acres in the Arkansas Territory, Indian Territory (now Oklahoma), and Spanish Texas. [You may notice that the US Govt does not have title to much of this land.] All Choctaw who insist on a traditional hunting lifestyle will be moved west. Any who adopt the lifestyle of an American farmer can become a US citizen, subject to the laws and jurisdictions that apply to all American citizens. Mushulutubbee takes it seriously enough to run for Congress. Chief Greenwood LeFlore will be elected to the Mississippi House of Representatives and Senate.
Money generated from the sale of land in Mississippi is earmarked for the support of Choctaw schools on both sides of the Mississippi. Chief Peter Pitchlynn will help found the Choctaw Academy in Kentucky in 1825. The Natchez Trace and the Cumberland Road between them give Choctaws easy access to Tennessee, Kentucky and Washington, DC, so there are Choctaw all over the region. None of the Civilized Tribes were confined [yet].

But two of the three great mingos will die during a trip to Washington in 1824, and in 1830 it will be Mushulatubbee's sad task to lead the rest of Choctaw Nation to Oklahoma following the 1830 Treaty of Dancing Rabbit Creek. One provision of the treaty allows any Choctaw who really really really did not want to move to the Territories to remain on reserved land in Mississippi, where the Missisippi Band of Choctaws persists to this day.

While the Choctaw Removal is still ten years in the future, some ["The Old Settlers"] have already emigrated to the future Okla Homa (Red People) in order to avoid losing their way of life to assimilation. They would rather live free "off the grid" than live under laws they had no part in making. The Caddo and other western tribes are discontent with the Choctaw settlers.

J. Pennsylvania
James Tam (44) and his family, including third wife Rebecca McNutt (22) and son Joshua Tam (8), are in Fayette Co., after leaving Delaware, passing through Maryland, and ambling toward Ohio. They exemplify the class known then as "movers," regarded as gypsies by their more sedentary neighbors.Whenever and wherever he stopped, Tam was a farmer. Joshua will migrate to Indiana on his way to Texas, and probably did not meet the Harrises on their way to Missouri..

The Margecestors